guide to addiction treatment for athletes
Making Your Recovery Affordable
Introduction: Guide To Addiction Treatment For Athletes
Many people say they wish they could be an athlete. Athletes use physical talents to accomplish goals, and many are part of a team that feels like a family. An athlete knows the thrill of a cheering crowd, but they also understand what it takes to be a sports hero. It isn't easy.
Athletes face a lot of pressure. They must be competitive despite their mood, they face numerous injuries during games and practices, and they have the expectations of coaches, fans and family members to face. Every athlete dreams of being the best at what they do, but sometimes the pressure to succeed becomes too much to bear.
Sports and Drug Use
To cope with the relentless pressure or boost performance, athletes might turn to drugs or alcohol. Drug use among athletes is common on all levels, from high school sports right up to the pros. For example, a 2018 study of college athletes found the following information:
Seventy-seven percent of student-athletes reported drinking alcohol in the last year.
Thirty-six percent of student-athletes drank on a weekly basis, and two percent drank daily.
Forty-two percent said they engage in binge drinking, with the highest rates reported by lacrosse players, followed by hockey players.
About five percent used cocaine in the last year.
Eleven percent of student-athletes used narcotic pain medication in the last year with a prescription, and 2.9 percent used painkillers without a prescription.
Over six percent of student-athletes used ADHD stimulants with a prescription and 7.5 percent used without a prescription.
Twenty-four percent of student-athletes reported inhaling marijuana in the past year.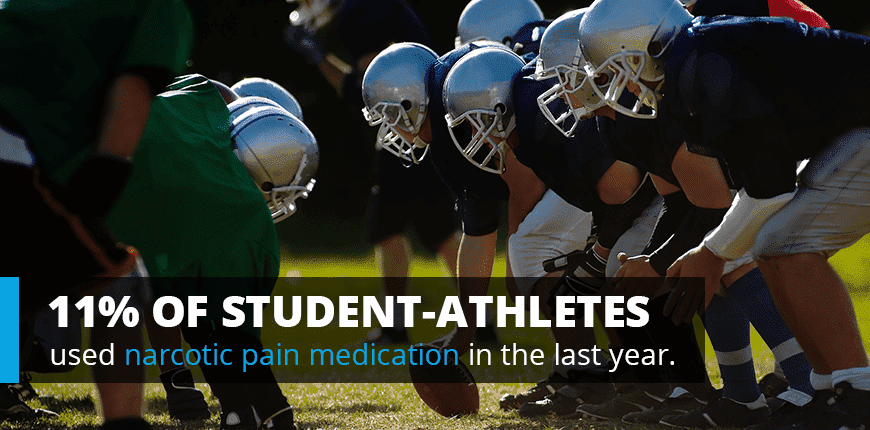 Athletes may turn to performance-enhancing drugs to win a competition, or they might abuse alcohol before a game to calm their nerves. Some athletes take painkillers to heal from a sports-related injury and find that they cannot stop taking the painkiller. There are many reasons substance abuse happens in sports. Sometimes, abuse leads to drug addiction.
However, just as an athlete is not immune to addiction, they are also not exempt from treatment and getting the help they need.
If you or a loved one are an athlete seeking treatment for substance abuse, Tranquil Shores is here to help. In this guide, we cover topics such as:
Common drugs used in sports and how athletes get addicted
What doping is and why it's an issue
Alcohol and athletes and how it affects athletic performance
The long-term effects of Adderall abuse
Athletes and depression, anxiety and other co-occurring disorders
How to prevent drug use in sports and signs to look for
How to get treatment for drug abuse in athletes
Drug abuse among famous sports players
We will also discuss sports injuries and opioid addiction, as well as the effect of alcohol on a sports injury. This guide covers the most common substance abuse issues seen among athletes because the first step to getting help is recognizing there is a problem.
Tampa Bay is a beautiful place to live year-round and a sports lover's dream. As the home of the New York Yankees' spring training and many sports teams on all levels, Tampa Bay residents adore sports and their athletes. Know that help is close by at Tranquil Shores to keep you playing or cheering for the games you love and a team who loves you back.
If you or a loved one is struggling with addiction, do not hesitate to reach out to our skilled professionals at Tranquil Shores today!
your recovery is our main priority
Life is so much better after recovery. I'm in better spirits. I can conquer almost anything on my own. And I couldn't be happier.
Recovery is about the beginning of a new life and not about dwelling on what you might have done in the past. The counseling, along with the spiritual basis for the counseling is second to none!
The people cared about me and the people took me under their wing. They not only saved my life, but they saved my brothers and in a way my sons.
- Former Family Member of Patient
We found at Tranquil Shores people who were totally dedicated to treating and healing the whole person, physically, emotionally and spiritually. They replaced despair and brokenness with confidence and joy, shame with acceptance and grace.
I had this act going like I was this great student and daughter and I was absolutely dying inside. Luckily I was blessed with amazing parents that talked to Chad Johnson and they figured out a way to get me to Tranquil Shores.
Ready To Reclaim Your Life?