Tranquil Shores History & Mission
When you are recovering from drug and alcohol addiction, your journey matters. At Tranquil Shores, we invest in every detail of the recovery process. Our beachside drug and alcohol rehab facility is dedicated to providing unique and personalized therapy to those looking for help with substance use disorders in Florida.
While you settle into our luxury community housing, we will craft an individualized treatment plan to help you overcome your addiction, once and for all. Our substance use counselors use every available resource to help you address your specific needs. Because our client to counselor ratio is so small (3 clients to every counselor), you will get the special attention you need and have an opportunity to dive deeper in your therapy, recovery, and discovery.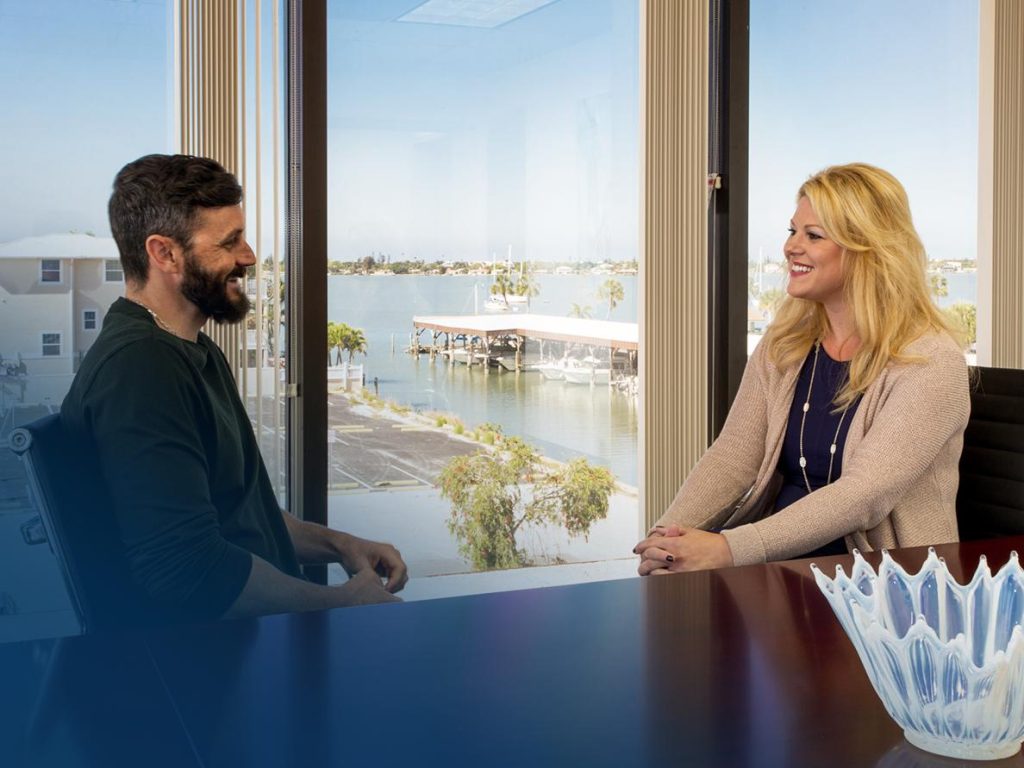 Meet Chad Johnson, Founder And CEO Of Tranquil Shores
For most people, growing up in an upscale neighborhood in Dallas and being a successful stockbroker would be a great life. What, then, would induce someone to abandon that job, desert family members, and take up quarters in the musty interior of a parked car in Tampa? The answer: substance abuse.
"The first and last thing on my mind each day was where I'd get my next drink or anything that would change the way I feel," said Chad Johnson, now 48 and living comfortably in St. Petersburg. "Nothing else mattered."
Johnson; the son of Jimmy Johnson, the former football coach of the Miami Hurricanes, the Dallas Cowboys, and the Miami Dolphins; fought a 20-year battle with substance abuse before turning his life around. Today, he runs Tranquil Shores addiction recovery center near St. Petersburg, which specializes in an individualized approach to recovery.
"About a decade ago I set out to start a treatment facility that could address all aspects of someone's substance abuse and mental health issues," said Johnson, who applied his experience in finance to build a solid business base. From that beginning, Tranquil Shores has grown into a 24-bed facility with numerous employees. The clinical office is in Madeira Beach and the residence overlooks the Gulf of Mexico.
All adults 18 and older who struggle with addiction are welcome at Tranquil Shores. No matter where you are in your recovery journey, we can help. Some of our clients are experiencing the consequences of addiction for the first time, and others are coming to us after past attempts at recovery. We design our unique treatment plans for your personal success, and many of our clients see Tranquil Shores as both a sanctuary and the start of their long-term sobriety.
Our clinical team of addiction experts takes advantage of treatment techniques that promote your overall wellbeing. Collectively, we refer to these techniques and processes as the Integrative Recovery Model (IRM). IRM is an effective tool in drug and alcohol abuse treatment, and our counselors put it to use in our comfortable, calming beachfront facility. We give you the strategies you need for success, and our recovery model works – even for people who have been unable or unwilling to accept traditional treatment methods. IRM also works for individuals with post-acute withdrawal symptoms.
We make our treatment accessible by accepting most major insurance plans.
Learn More About Tranquil Shores
Our Accreditation
Tranquil Shores is Joint Commission Certified. Our seal of accreditation displays just how committed we are to the health and wellbeing of our clients. It represents the work we are willing to invest in those we treat. It also means you can rest easy knowing that you or your loved one is in the hands of those who have been assessed by one of the nation's top addiction and mental health treatment accreditation organizations.
Directions to Tranquil Shores
Our Rehab Facility is located at 4300 Duhme Road, Madeira Beach, just outside St. Petersburg in the greater Tampa area. This section of the western shore of Florida looks out into Boca Ciega Bay and the Gulf of Mexico. Nestled just inside a small barrier island, we enjoy beautiful views and calm waters. Our facilities include places for recreation including weightlifting, tennis, basketball, running and more.
Begin Your Journey To Recovery
We are dedicated to addressing all aspects of your substance abuse and mental health issues. 
Our Values At Tranquil Shores
In all of our interactions, we will:
Build trust by being truthful, empathetic, and consistent.
Be authentic and courageous, aligning what we are thinking, saying, feeling, and doing.
Be responsible for and follow through on the commitments we make to our clients, their families, the community, and each other.
In serving our clients, their families, the community, and each other, we will:
Honor the individuality of each person.
Treat each person with dignity, taking the time to be present, to listen, to explain, and to understand.
Create a caring environment that radiates humility, grace, and love.
In all we do, we give thanks for the gift of life and all of its opportunities; we will:
Express gratitude in all of our thoughts, words, and actions.
Serve others and encourage them to pass on the gifts they have received along the way.
Find the true meaning of all of our blessings.
In all we do, we will:
Put forth our personal and professional best, providing the highest quality of care of which we are capable.
Commit ourselves to continuous improvement, seeking to set the recognized performance standards within our industry.
Deliver a superior experience for all of our clients, sensing their needs and exceeding their expectations.
Our Mission At Tranquil Shores
Our goal at Tranquil Shores is to set the standard for quality care of men and women suffering from addictive diseases. We believe the commitment of our staff to encourage and support our clients along each step of the recovery process is the driving force of our extensive success rate. Whether you're seeking treatment for yourself or helping someone you care about, we welcome you to share this revitalizing journey with Tranquil Shores. By working together, you can reclaim your life!
Dedicated To Your Recovery
Our Facility Has a 3:1 Client to Counselor Ratio
Individualized Aftercare Plan
Private & Calming 24-Bed Facility
Family Education & Support
your recovery is our main priority
Life is so much better after recovery. I'm in better spirits. I can conquer almost anything on my own. And I couldn't be happier.
Recovery is about the beginning of a new life and not about dwelling on what you might have done in the past. The counseling, along with the spiritual basis for the counseling is second to none!
The people cared about me and the people took me under their wing. They not only saved my life, but they saved my brothers and in a way my sons.
- Former Family Member of Patient
We found at Tranquil Shores people who were totally dedicated to treating and healing the whole person, physically, emotionally and spiritually. They replaced despair and brokenness with confidence and joy, shame with acceptance and grace.
I had this act going like I was this great student and daughter and I was absolutely dying inside. Luckily I was blessed with amazing parents that talked to Chad Johnson and they figured out a way to get me to Tranquil Shores.
Ready To Reclaim Your Life?